Members of Milli Majlis Culture Committee Meet with a GNAT Delegation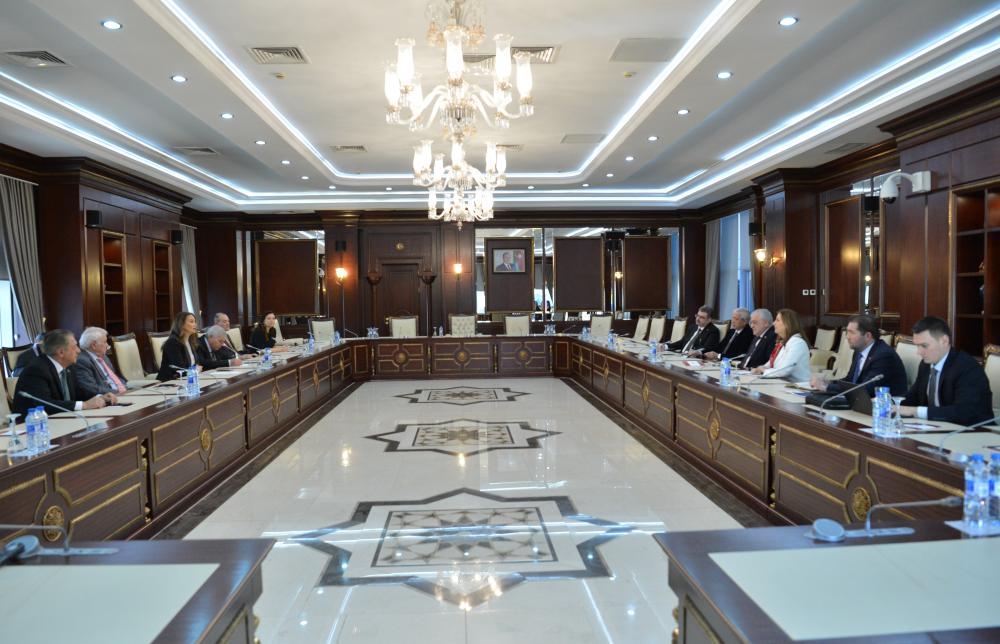 Members of the Culture Committee of the Milli Majlis had a meeting on 4 February with the visiting delegation of the Grand National Assembly of Türkiye led by the head of the Türkiye-Azerbaijan inter-parliamentary friendship group Şamil Ayrım.
Chair of the committee Ganira Pashayeva told the guests that the links between our states were growing stronger with each day; she underscored the role of the presidents Ilham Aliyev and Recep Tayyip Erdogan in making those links stronger before saying that the unity of Azerbaijan and Türkiye had always been an exemplary one.
She also talked about the part played by the friendship groups in both legislatures when it comes to strengthening inter-parliamentary co-operation, saying that exchanged visits and meetings held too helped broaden the brotherly connexions.
Türkiye's moral support given to Azerbaijan throughout the 44 days' Patriotic War was mentioned, too. Our states are forever by each other's side, according to Mrs Pashayeva.
We share the common culture and history with Türkiye; the Committee of Culture of the Azerbaijani legislature is working on expanding the cultural bonds, Mrs Pashayeva added.
Head of the inter-parliamentary group of the Grand National Assembly of Türkiye for friendship with Azerbaijan Şamil Ayrım said his thanks for the warm welcome given before touching on the firm ties between our sibling states and sharing the splendid impressions from all the meetings that had taken place during the visit of his delegation to Baku.
The centenary of Azerbaijan's National Leader Heydar Aliyev is due for celebration in 2023; there will be a number of related events in Türkiye, the Turkish MP mentioned.
The Shusha Declaration, inked after Azerbaijan's prevalence in the Patriotic War, demonstrates our alliance vividly enough, according to Mr Ayrım who lauded Azerbaijan's struggle for liberation of her lands and stressed that Türkiye was always behind Azerbaijan's stances.
Sabir Rustamkhanli, Aghil Abbas, Javanshir Feyziyev, Razi Nurullayev and Ulviya Agayeva of the Milli Majlis committee talked about the evolution of the brotherly bonds in all the areas, the ever-strengthening inter-parliamentary co-operation, the mutually advantageous interaction between the friendship groups and committees, and the bolstering effect delegations' visits and negotiations had on boosting the relationship.
Orhan Erdem, Yunus Kilıc and Tülay Kaynarca. In turn, emphasised the imperative to broaden the inter-state and inter-legislature co-operation further; they also brought up the importance of the ties in education, culture and sciences, and spoke of what steps are to be taken to those ends.
Prospects of the inter-parliamentary co-operation and other matters attracting both sides' attention were discussed too as the meeting proceeded.
The Press and Public Relations Department
The Milli Majlis
---
---