Milli Majlis Chair Sahiba Gafarova Speaks with Deputy Head of Croatian Parliament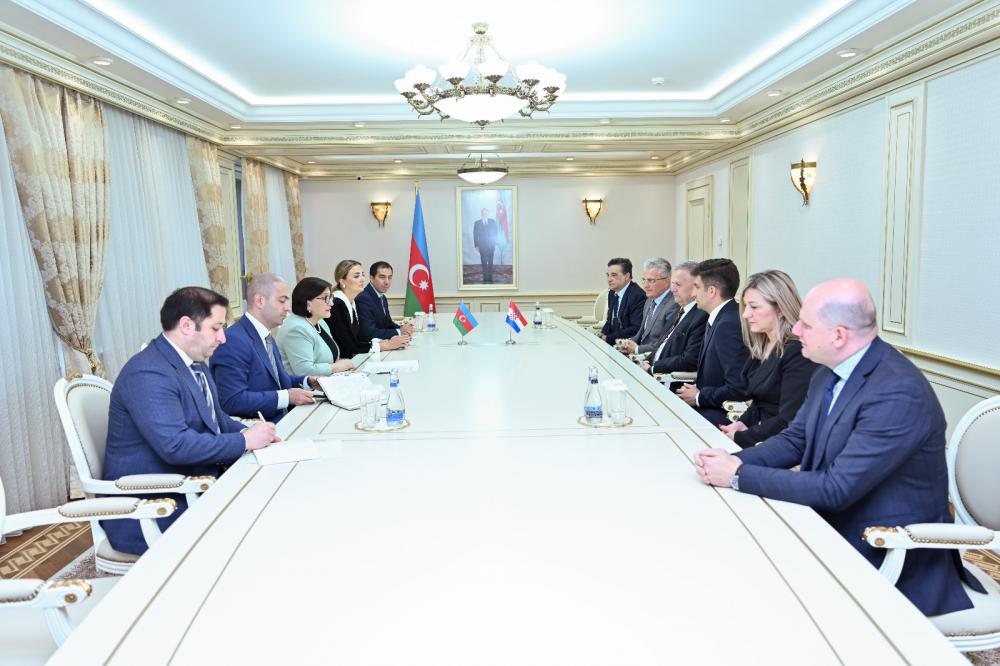 Speaker of the Milli Majlis Sahiba Gafarova met on 18 May with Deputy Chairman of Hrvatski Sabor Davorko Vidović who is in Baku for the special National Leader Heydar Aliyev Centenary meeting of the Azerbaijani Parliament.
Sahiba Gafarova said it was her pleasure to greet the Croatian guest within the walls of the Milli Majlis, thanked him for having accepted the invitation to Baku and taken part in the jubilee gathering of the Azerbaijani Parliament and went on to talk about the unique merits and exploits of the architect and builder of the modern Azerbaijani State, leader of our nation Heydar Aliyev who, she pointed out, was not only an outstanding statesman and politician but also a grand leader, an irreplaceable personality who had changed the fate of his nation. The Heydar Aliyev era in Azerbaijan is characterised as one of building, development, stability, progress and independence, Mrs Gafarova emphasised.
Azerbaijan and Croatia have ties of friendship between them and are also united by a strategic partnership. Mutual visits serve to develop our relations further, in which regard Mrs Gafarova pointed to the particular importance of visits and meetings held at the level of Heads of State.
Turning to the contribution of the legislatures to the bilateral relations' growth, Speaker Gafarova mentioned the activities of the friendship groups in both assemblies, adding that more intensive inter-parliamentary contacts would help deepen the relationship even further.
Next, the Croatian guest was made aware of the current developments and events in the region as well as of Azerbaijan's energetic work being done to revive her de-occupied provinces.
Deputy Chairman of the Croatian Parliament thanked for the invitation to Baku and the kind hospitality afforded him before saying that he was glad to be in the friendly Azerbaijan. Davorko Vidović highlighted Croatia's keenness on furthering co-operation with our country and spoke of his meetings at the Azerbaijani Ministry of Foreign Affairs and Ministry of Economy, the introduction to the workings of the Azerbaijani-brand ASAN Service and a trip to the town of Aghdam reconquered from the Armenian occupation – all during his current stay in Azerbaijan. Croatia as a country that suffered from mine problems herself is experienced in de-mining, Mr Vidović remarked.
Then the conversation moved to promoting the Azerbaijani-Croatian connexions in various areas and other subjects of shared interest.
The Press and Public Relations Department
The Milli Majlis
---
---