Milli Majlis Chair Talks with Deputy Chairman of Lithuanian Seimas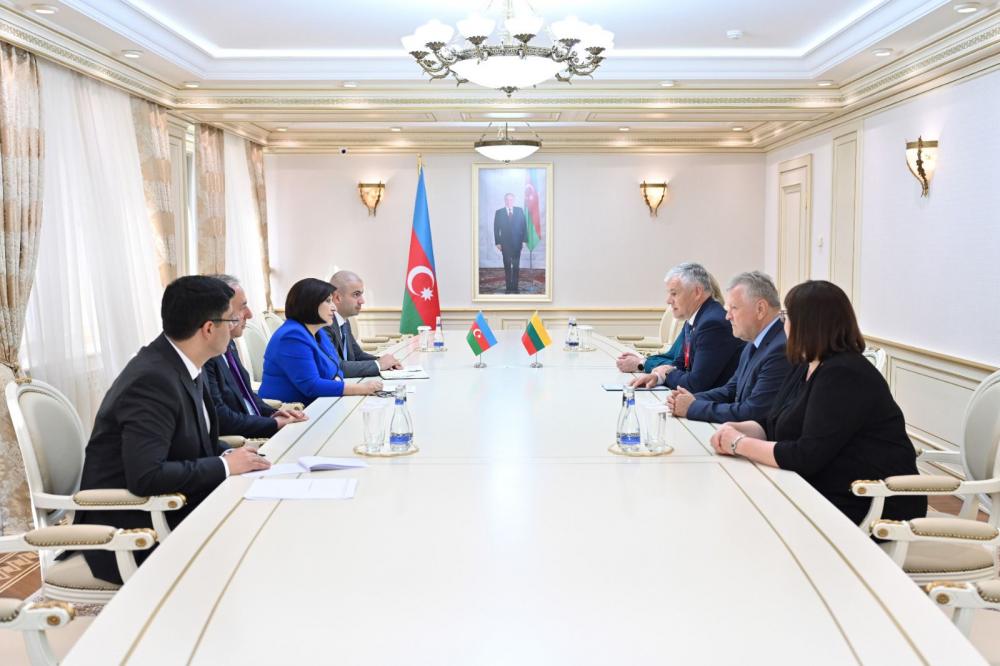 A meeting of Chair of the Milli Majlis Sahiba Gafarova and Deputy Chairman of the Seimas of Lithuania Jonas Jarutis took place on 22 May.
Sahiba Gafarova greeted Mr Jarutis, who had come round for the joint conference of the Milli Majlis and the OSCE PA 'The Role of National Parliaments in Promoting Security and Stability through Green Economy, Connectivity and Sustainable Development', thanked him for visiting our country and underscored how very much the topicality of that conference in Baku mattered to our country and to the world at large.
The Azerbaijani-Lithuanian relations' current development is a source of satisfaction. Azerbaijani President Ilham Aliyev is on an official visit to Lithuania currently, and the meetings and events held today are important for the development of relations between the two countries, with the visit to Vilnius itself being a striking indicator this development.
Regarding the relations between the two legislatures, Mrs Gafarova stressed the special role of the working groups on inter-parliamentary contacts in the context of these relations, and was pleased to recall her visit to Lithuania last year and the meetings held during it.
In 2020, Azerbaijan achieved by her own efforts the implementation of the UN Security Council resolutions, Mrs Gafarova stressed before moving on to the current situation since the end of the 44-day Patriotic War and the extensive re-construction and building carried out by Azerbaijan in her own liberated territories.
Azerbaijan set up a checkpoint to discourage the Armenian abuse of the Lachin Road. Meanwhile, civil movement and the road's use to humanitarian aid encounter no problems whatsoever, it was further said.
The two states are amidst peace talks now. Azerbaijan wants to sign a peace pact with Armenia as soon as feasible – just as much as Azerbaijan wants the transport infrastructure to be restored in the de-occupied provinces. What is more, Azerbaijan is endeavouring to achieve all that.
Deputy Chairman of Lithuanian Seimas Jonas Jarutis thanked for the invitation to the above-said co-run conference in Baku. He also spoke about the significance of President Ilham Aliyev's official visit to Lithuania and about it being certain to make a hefty input in the progress of the two-way relations.
The Lithuanian Vice Speaker congratulated the Azerbaijani side on the centenary of the world-renowned politician, Great Leader Heydar Aliyev, currently celebrated in Azerbaijan and beyond. Also, Mr Jarutis brought up the Lithuanian energy policy and Azerbaijan's key role in European energy security.
The conversation also encompassed promotion of further growth of the bilateral inter-parliamentary connexions and other matters.
The Press and Public Relations Department
The Milli Majlis
---
---