Milli Majlis Speaker Sahiba Gafarova Talks to Chair of Knesset's Foreign Affairs and Defence Committee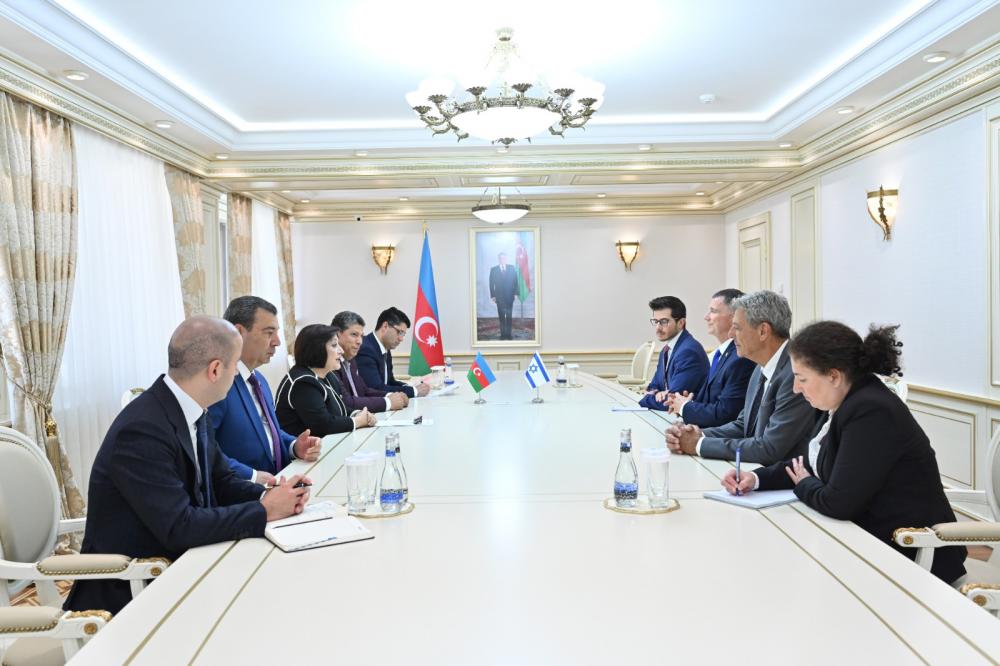 Chair of the Milli Majlis Sahiba Gafarova told Chairman of the Knesset's Foreign Affairs and Defence Committee Yuli-Yoel Edelstein as they met on 5 June that she was glad to welcome him to the Azerbaijani Parliament and that Azerbaijan and Israel were friends and partners.
The vibrant political dialogue between our two countries and high-level visits and meetings have played an exceptional role in the development of the bilateral relations, according to Mrs Gafarova who praised President Herzog's first official visit to Azerbaijan in May – the visit which, she said she was confident, was destined to make a major contribution to further progress of our relations.
Also, the opening of Azerbaijan's embassy in Israel earlier this year is going to serve the same cause whilst generating broad co-operation opportunities.
Jews and Azerbaijanis have lived in peace, amity and mutual understanding for centuries on end. The Jewish Community, embraced with state-level care and support, are actively engaged in the country's political and social life. There are synagogues and Jewish schools in Azerbaijan. Conversely, our Jewish compatriots now living in Israel, too, are helping take the bilateral relations' growth further considerably.
The positive part of inter-legislature connexions in that progress was brought up then. The leader of the Milli Majlis lauded the work done by the two legislatures' friendship groups and MPs' reciprocal visits before underscoring the preparedness of the Milli Majlis for yet more extensive co-operation with the Knesset and saying that intensified contacts and interaction amongst parliamentary committees and friendship groups would be the driving force behind the deepening of the bonds between the Azerbaijani and Israeli legislative assemblies.
Chairman of the Foreign Relations and Defence Committee of the Israeli Parliament Yuli-Yoel Edelstein expressed his gratitude for the warm welcome and shared the pleasant impressions of the visit to Azerbaijan.
Israel considers Azerbaijan to be a friendly state. It is gratifying, according to Mr Edelstein, that our ties are moving upwards; the bilateral partnership serves the interests of our peoples whilst also helping strengthen peace and co-operation. The first visit of Israeli President Isaac Herzog to Azerbaijan late last month, of course, will give an additional impetus to the growth of the relations. Mr Herzog also stressed the importance of the opening of the Azerbaijani embassy in Israel, saying that this move would greatly contribute to further development of the bilateral ties.
Then, Mr Edelstein brought up the successful bi-partite interaction in several areas before emphasising its utmost importance for the continued deepening of the relations between Azerbaijan and Israel.
The meeting also saw an exchange of views on other issues of interest to both sides.
The Press and Public Relations Department
The Milli Majlis
---
---