Speaker of Milli Majlis Sahiba Gafarova Speaks with President of Hungary Katalin Novák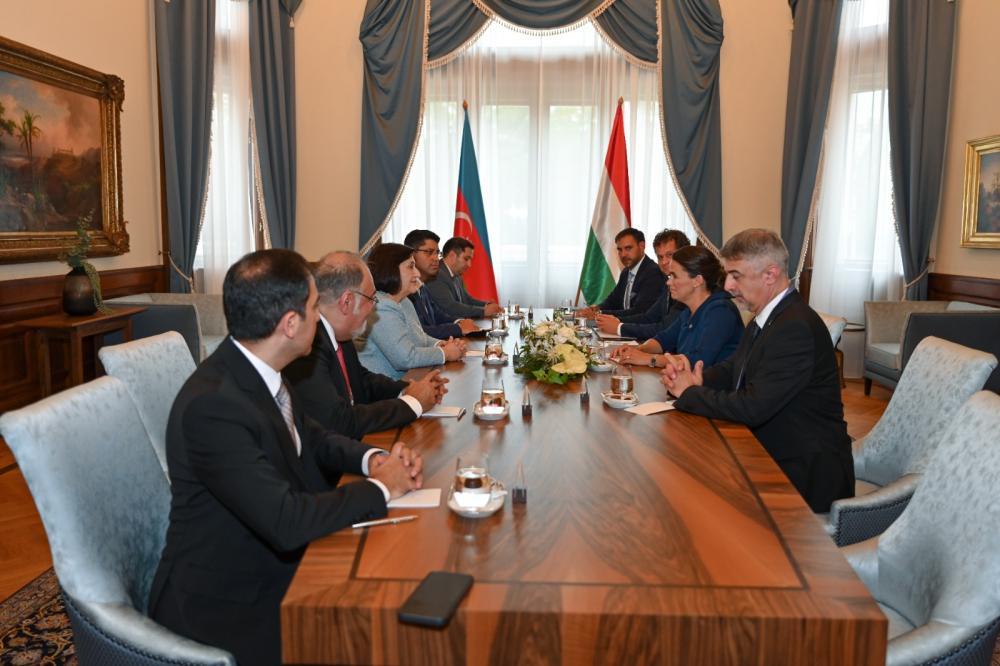 Chair of the Milli Majlis Sahiba Gafarova met with President of Hungary Katalin Novak on 14 September.
President Novák greeted her guest cordially and underlined the importance of Mrs Gafarova's participation in the forum organised and held upon the initiative of Hungary as a country attaching great importance to family values.
President Novák mentioned the high level of bilateral relations and their progress being ensured by reciprocal visits. She also referred to the fruitful bilateral co-operation in various areas.
It was emphasised that our nation has rich national-spiritual values and that the Azerbaijani people, like the Hungarian people, find family values especially important.
Mrs Gafarova expressed gratitude for hospitality and conveyed greetings of President Ilham Aliyev to President Katalin Novak.
The V Budapest Demographic Summit is a particularly important international forum, according to Mrs Gafarova who added that Azerbaijan highly appreciates Hungary's efforts to protect and support the family as the main unit of society.
As she was sharing her impressions of the forum, Sahiba Gafarova recalled the words of Hungary's Head of State and PM Victor Orban about family values. The relevant positions of Azerbaijan and Hungary coincide, Mrs Gafarova remarked. It is necessary to combine forces in this area, it was said. Family values are of immense significance to the Azerbaijani society and are constantly in the caring focus of the State.
The exchange of opinions between the leaders of Azerbaijan and Hungary about promotion of international co-operation to keep family values intact was brought up again.
Azerbaijani and Hungarian peoples shared akin family staples, as was mentioned in today's speeches of Hungarian President and PM and Speaker of the Milli Majlis.
The rich enough bilateral co-operation agenda was brought up then. It was mentioned that the two countries actively co-operated in the economic, energy, transport, agricultural, tourism, educational and other areas. The strategic partnership and friendship are progressing too, according to Mrs Gafarova who recalled her visit to Hungary in 2021. The meetings and discussions held during that visit promoted a continued growth of the relations between our parliaments which co-operate substantially in many inter-parliamentary organisations.
Other matters of shared interest were discussed at the meeting as well.
The Press and Public Relations Department
The Milli Majlis
---
---