Chair of Milli Majlis Sahiba Gafarova Meets Chairman of Great National Assembly of Turkey Mustafa Şentop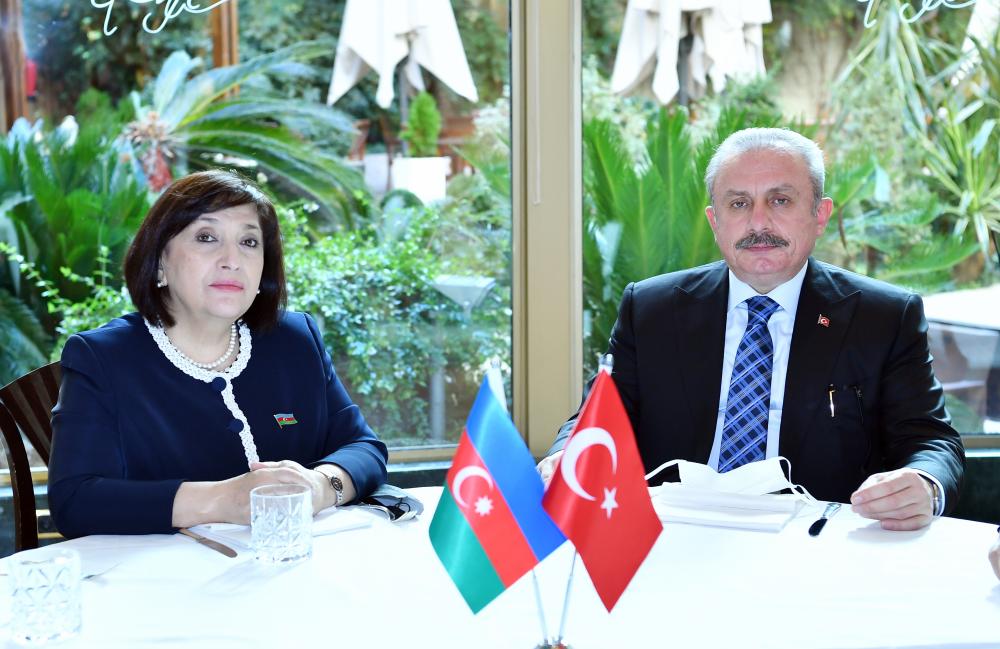 Chair of Milli Majlis Sahiba Gafarova Meets Chairman of Great National Assembly of Turkey Mustafa Şentop
Chair of the Milli Majlis Sahiba Gafarova who is now in Madrid to take part in the 143rd Assembly of the Inter-Parliamentary Union and the Inauguration meeting of the Parliamentary Network of the Non-Aligned Movement met with Chairman of the Great National Assembly of Turkey Mustafa Şentop on 27 November.
Having welcomed the leader of the GNAT and the members of the Turkish delegation cordially, the head of the Milli Majlis quoted President Ilham Aliyev as having said that the global political system had no analogues of the Azerbaijani-Turkish relations – those that are rooted in our nations' spirit of brotherhood. The bonds between Azerbaijan and Turkey are strategic partnership today.
The world could eyewitness this fraternity once more during Azerbaijan's 44-day Patriotic War. The personal friendship of our states' leaders has paid an immense part in the achievement of the current prominent level of the unity that our countries are enjoying, according to Sahiba Gafarova.
The cohesion demonstrated by our nations also manifests itself in the collaboration of our parliaments, be it bilaterally or under the umbrella of international organisations. The reciprocal friendship groups of the two legislatures stand out for their activity, besides.
In his turn, Chairman of the Great National Assembly of Turkey Mustafa Şentop remarked that Turkey and Azerbaijan were really one nation living in two states, that our friendship and brotherhood had lasted throughout centuries and that their origins were in the olden epochs. As the head of the state Recep Tayyip Erdogan had said, 'We are invariably by Azerbaijan's side, including in the period following the resolution of the Armenian-Azerbaijani conflict,' Mr Şentop emphasised.
It is essential to put on more mutual visits and meetings of our parliaments; intensifying the contacts is serving very seriously the cause of deepening our relations, according to Mr Şentop.
Going further, the Chair of the GNAT referred to the close collaboration of our MPs under the aegis of international organisations; he also underlined the need to make that interaction yet more robust eventually.
There was an exchange of opinions about other topics of shared interest as the meeting went on.
The Press and Public Relations Department
The Milli Majlis
---