Chair of Milli Majlis Sahiba Gafarova Meets Chairman of Pakistan National Assembly Asad Qaiser during Working Visit to Spain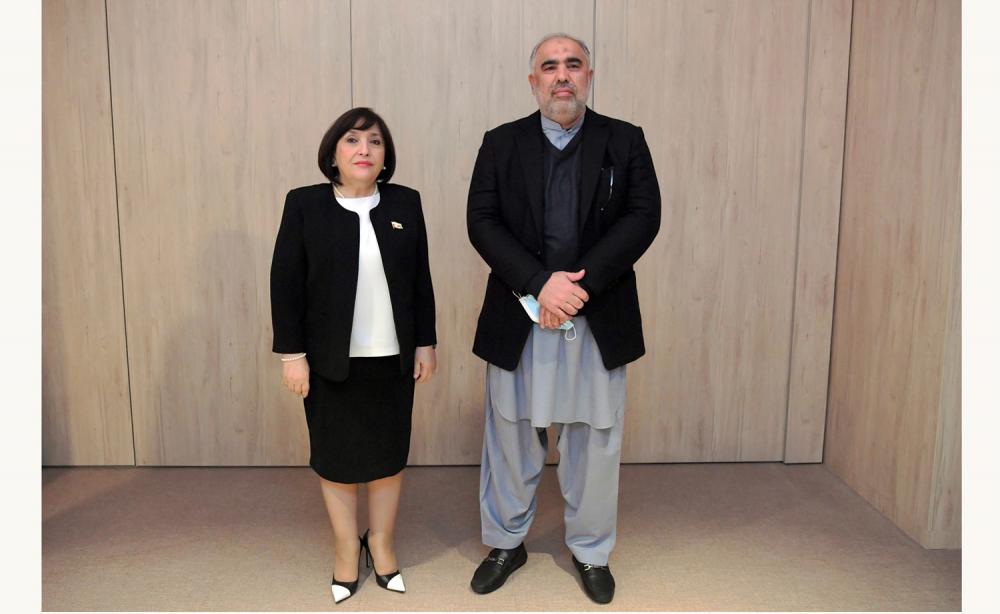 Chair of the Milli Majlis Sahiba Gafarova who is in Spain on a working visit currently met Chairman of the National Assembly of Pakistan Asad Qaiser on 28 November.
Welcoming the leader of the Pakistani parliament cordially, Sahiba Gafarova referred to the immense importance of the strategic partnership of the two countries. The friendly and fraternal countries of Azerbaijan and Pakistan always support one another, and their high-level relations precondition the expansion of their inter-parliamentary collaboration, too, noted the head of the Milli Majlis. Mr Qaiser's visit to our country this past summer was marked by the momentous events as the Memorandum of Understanding was signed between the Milli Majlis of Azerbaijan and the National Assembly of Pakistan, and the Baku Declaration was adopted at the First Trilateral of the chairs of the Azerbaijani, Turkish and Pakistani legislatures during it. Both documents possess the historic importance. Moreover, the three legislature speakers' joint trip to our country's cultural capital of Shusha and the de-occupied Fuzuli was of a great symbolic significance, Mrs Gafarova was saying.
Madame Speaker thanked the Chairman of the National Assembly of Pakistan for the support to the Azerbaijani initiative of founding the Parliamentary Assembly of the Non-Aligned Movement.
Asad Qaiser stressed the interest of the Pakistani side in furthering comprehensive co-operation with Azerbaijan before pointing out that his country's stance remained unchanged: Pakistan has always supported and will be supporting from now on the rightful position, sovereignty and territorial integrity of Azerbaijan.
It is highly commendable how Azerbaijan is taking substantial post-war steps to install well-being in the region whilst also conducting the large-scale restoration and building work in its de-occupied territories, according to the Chairman of the National Assembly of Pakistan who added he was under strong impression from what he had seen during the visit to Shusha and Fuzuli.
The level of the bilateral interaction brings satisfaction; at the same time, there is a large potential to expand the multifaceted co-operation eventually, according to Mr Qaiser who also mentioned the upwardly movement of our inter-parliamentary connexions.
As the conversation continued, there was an exchange of opinions about the growth prospects of the bilateral relations and inter-parliamentary ties. The shared confidence was voiced that deepening our relations would benefit both nations.
The Press and Public Relations Department
The Milli Majlis
---
---