A Meeting of Chair of Milli Majlis Sahiba Gafarova with Chairman of Arab Parliament Adel bin Abdulrahman Al Asoomi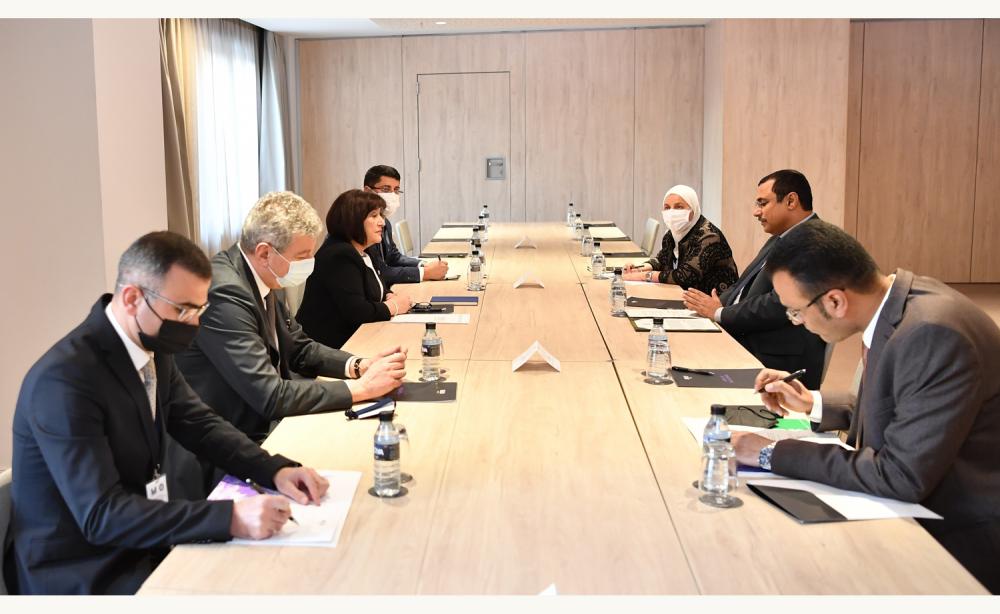 Chair of the Milli Majlis Sahiba Gafarova who is in Madrid for the 143rd Assembly of the Inter-Parliamentary Union and, on its sidelines, the inauguration meeting of the Parliamentary Network of the Non-Aligned Movement, had a meeting with Chairman of the Arab Parliament Adel bin Abdulrahman Al Asoomi on 28 November.
Mr Al Asoomi congratulated the Chair of the Milli Majlis on last year's victory in the Patriotic War and on founding the Parliamentary Network of the Non-Aligned Movement before assuring her of the complete support for the Network from the organisation he is heading. Arab states will be represented in the Parliamentary Network, too; this initiative of Azerbaijan is extremely important, according to Mr Al Asoomi who expressed a confidence that the Parliamentary Network was going to become a global parliamentary institution.
The Arab Parliament attaches a foremost importance to co-operating with the Milli Majlis of Azerbaijan, Mr Al Asoomi noted, going forth to outline what steps could be taken in this context.
Mrs Gafarova welcomed Mr Al Asoomi and thanked him for the congratulations. Also pointing at the significance of the Azerbaijani side's initiative, Sahiba Gafarova added that our country had authored a number of global peace and security strengthening and world problem solution initiatives – through the combined effort. International co-operation is needful very much now that the world is beset by global economic problems, the pandemic and xenophobia, and this is why the emergence of the Parliamentary Network of the Non-Aligned Movement is so important: this platform will promote extensive co-operation of the parliaments.
Sahiba Gafarova proceeded to inform her vis-à-vis about Azerbaijan's victory in the 44 days' Patriotic War and the new situation that settled in our region subsequently. Last year, our country had liberated its territories recognised as such internationally from the three-decades-long Armenian occupation and, in that way, made its national territory whole again. As for now, Azerbaijan is occupied with the large-scale restoration and rebuilding of the recovered lands. Those efforts will see to it that 1 million of our IDPs go back under the rooves of their homes.
Sahiba Gafarova recalled the conclusion of the Armenian-Azerbaijani conflict with the signing by the Azerbaijani, Armenian and Russian leaders of the trilateral statement of 10 November last year. Now, she added, it is needed to start work on a peace treaty and on delimitation and demarcation of the borders, all on the principle of mutual recognition of sovereignty and territorial integrity. The leaders of Azerbaijan and Armenia had met on 26 November, Mrs Gafarova mentioned before expressing a conviction that that meeting would have positive outcomes.
Other matters of mutual interest were talked over during the meeting as well.
The Press and Public Relations Department
The Milli Majlis
---
---