Chair of Milli Majlis Sahiba Gafarova Meets Deputy Chairman of Kyrgyz Republic's Joğorqu Keñeş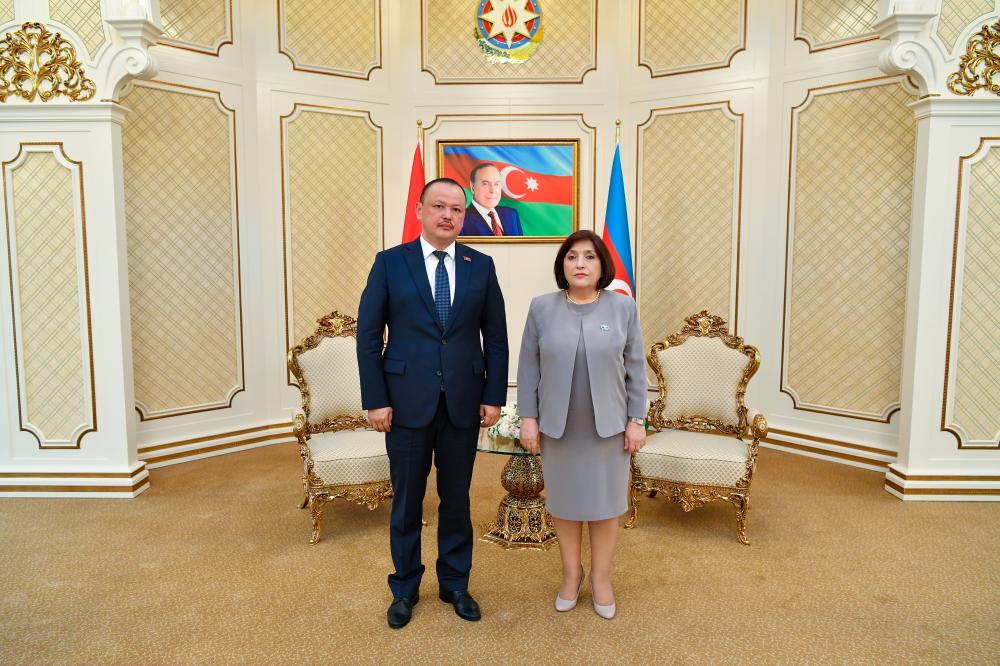 The meeting of Chair of the Milli Majlis Sahiba Gafarova and Deputy Chairman of the Joğorqu Keñeş of the Kyrgyz Republic Ulan Primov on 16 May began with the greetings to the Kyrgyz guest and the emphasis placed on the great importance that Azerbaijan attaches to fostering its relations with Kyrgyzstan.
According to Mrs Gafarova, the two countries whose peoples share their history, culture and moral principles have taken their relations to a new level qualitatively after having become independent whilst the high-status political dialogue bears well on their interaction in other fields.
Speaking of the inter-parliamentary connexions, making them more profound serves the common interests, indeed. Our MPs meet regularly and work together fruitfully in international organisations, from which perspective it is commendable that the delegation of Kyrgyzstan would take part in the PAECO Third General Conference due in Baku, Sahiba Gafarova was saying. She also underlined the gravity of the matters put on the agenda of the conference.
Going further, Madame Speaker mentioned the planned trip of the leaders of the participating delegations to Shusha and talked in this relation about Azerbaijan's victory in the 44-day Patriotic War. Shusha is not only a cultural capital of Azerbaijan but also an inseparable part of the Turkic World, according to the leader of the Azerbaijani parliament.
Armenia had razed all the towns and villages and had turned all the former population centres in ruins all over the territories it used to occupy. Now, though, the accelerated restoration and rebuilding of those territories is afoot; the delegation leaders will see all that with their own eyes during the said trip, according to Mrs Gafarova.
Deputy Chairman of the Joğorqu Keñeş of the Kyrgyz Republic Ulan Primov said his thanks for the cordial reception and the invitation to take part in the PAECO Third General Conference before expressing pleasure with the travel to Azerbaijan and with being at the Milli Majlis. He stressed the community of values and pillars of the Kyrgyz and Azerbaijani peoples and their spiritual kinship as a splendid pledge of on-going development of the relations. The two states' leaders' visits and conversations as well as high-ranking delegations' interaction upon various platforms are of formidable importance in that they make it possible to discuss such matters that concern both sides, Mr Primov continued.
The Kyrgyz visitor said with conviction that the inter-parliamentary connexions were going to play a positive role in deepening the bilateral economic, cultural and humanitarian ties.
Other matters in the focus of either party were talked about during the conversation as well.
The Press and Public Relations Department
The Milli Majlis
---
---